Over the last few months we've been working hard on both the development and ongoing management of Swarmio, an eSports tournament platform currently being used by thousands of players around the world, and we're stoked to finally announce the largest tournament we've run to date — Gift The Rift.
Gift The Rift is a League of Legends charity tournament featuring 20 of the most popular Twitch personalities in the industry like Pokimane, LilyPichu, ImaQTpie, Scarra, and more competing to raise the most money for their team's charity. The tournament is going to be hosted in California by Travis Gafford & Captain Flowers at a popular residence that many gamers will find familiar.
Here's a few familiar faces who will be taking part in Gift The Rift:
The players have been split into teams, each representing a charity chosen by their team captain. At the end of the tournament, we'll be donating a total of $100,000 to the four charities based on tournament results and votes.
"As soon as the Swarmio team reached out to me about Gift The Rift and explained what it was all about I was super excited to take part. I get to play League of Legends with my Twitch friends for all our viewers and raise money for St. Jude Children's Research Hospital in the process — that's super sweet." — @Pokimane
When is the tournament?
Mark your calendars — Gift The Rift will be happening on September 1 from 1pm PST to 9pm PST. Each team will be casting the game from their point of view, and the main channel will feature commentary by Travis Gafford and friends with exclusive interviews between matches. You can find each stream on the official Gift The Rift tournament page.
What are the teams?
There will be four teams for Gift The Rift, chosen by the four captains: Pokimane, LilyPichu, xChocobars, and Kaypea — all female streamers and entrepreneurs with a combined 10 million fans across the top social media channels. We're super excited to have these four industry leaders participating in this charity tournament.
What charities will be supported?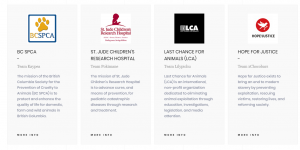 The charities the four captains have chosen to represent are British Columbia Society of Cruelty to Animals, St. Jude Children's Research Hospital, Hope for Justice, and Last Chance for Animals, and we're beyond excited to be donating a total of $100,000 to these organizations.
How will the donation money be split?
Half of the $100,000 donation will be split based on the tournament results, and half will be split based on fans like you voting for your favourite teams. The breakdown for tournament results will look like this:
1st place: $20,000 to their charity
2nd place: $15,000 to their charity
3rd place: $10,000 to their charity
4th place: $5,000 to their charity
How can you vote for your favourite team?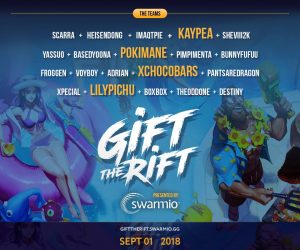 To vote for your favourite Twitch streamer's team, all you have to do is head to gifttherift.swarmio.gg and use your Twitch account to cast your vote.
Whatever percentage of votes your favourite team gets will be the percentage of the remaining $50,000 that is donated to their charity, so every single vote counts.
Voting is open RIGHT NOW — Cast your vote today!