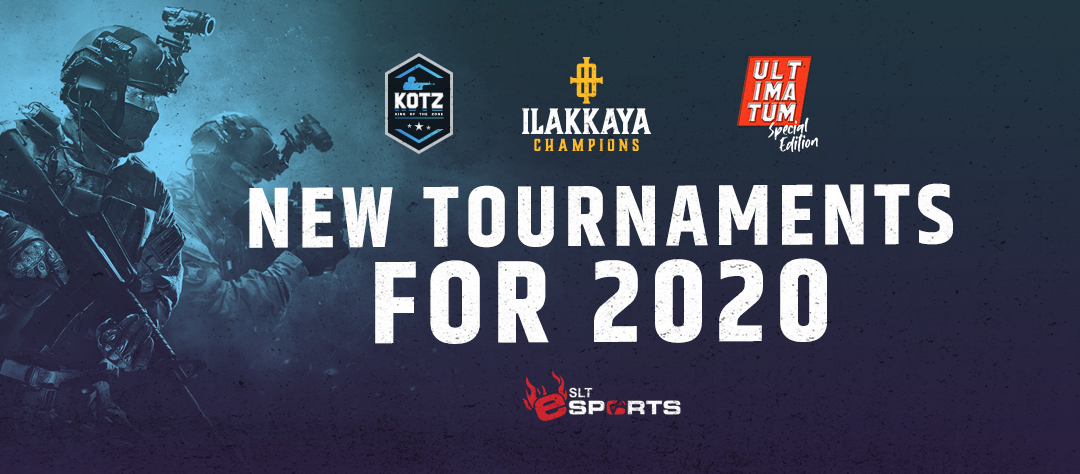 Our teams at SLT and Swarmio have some news to share:
In the last few months, we've been working hard on how we can best help grow the esports community and competitive CS:GO scene in Sri Lanka, and the role that we can play in this community to take Sri Lanka esports to the next level. We believe that the right way to do this is to put the right things in place, improving player experiences and helping everyone chase their dreams in esports by being the best that they can be.
To keep our path forward, we would like to introduce everyone to the NEW TOURNAMENTS we are hosting in 2020!
The King of the Zone
Rs. 1000 1v1 tournaments made for your weekdays. We look at these as your warm-up games for the weekends where you can gather with your friends and compete in our 5v5 tournaments.
Ultimatum
Our regular series of 5v5 tournaments. This is where you team up with your friends to win the bigger prizes of Rs. 5000!
Champions of Ilakkya
Starting in March with a Rs. 32,000 prize pool, this is a 5v5 special series of tournaments with 2 qualifiers throughout the month. Compete with the pros, and prove yourself.
Are you ready for all of this? Learn more about the SLT Esports Platform and the Subscription Levels.
What is the SLT Esports platform?
The SLT Esports platform is our way to provide players and esports enthusiasts in Sri Lanka with a destination to compete and grow with each other. We want to give everyone the tools to practice CS:GO online at a competitive level, earn rewards and have fun along the way.
What features can I expect?
 Dedicated 128-tick CS:GO Servers in Sri Lanka
All of the servers that host our CS:GO games are optimized the way they are at the highest levels of international competition. They're 128-tick so you don't miss a beat, and they're all based locally so you can play with the lowest latency possible.
Win Prizes in 1v1 and 5v5 Tournaments
Hone your skills in 1v1 tournaments with varying prize pools. Then, group up with your clans for 5v5s to claim bigger prizes on weekends. Everything is fully automated and streamlined so you don't have to sweat reporting scores and what-not.
Need more tournaments? Let us know and we'll schedule them out!
Build your Team up with Team Management Tools
With the Team Management Modules, you can group up with your friends or recruit players and make new friends — all in the platform.
What's coming up next?
There are a tonne of cool stuff in store that we're working round the clock to make available for you. Here's just a sneak peek:
League of Legends Tournaments
Player Profiles and Analytics
24/7 Public CS:GO Fun Servers
What's in it for SLT and Swarmio?
The ultimate goal for us is to grow the esports scene from the community and grassroots level. We're driven by that mission while at the same time trying to build a sustainable ecosystem for everyone, and that means keeping the lights on for us as well. Taking everything in perspective, we've designed out a subscription plan that's fair for everyone. Check our plans at https://www.slt.lk/esports/#pricing-sec
How do I join?
Liking what you're seeing so far? Join us! It's simple:
Head on over to https://www.slt.lk/esports/
Click on the Sign In / Register button.
Choose the subscription that makes sense for you.
Confirm your email.
Authenticate your steam account.
You're now ready to take your game to the next level.
Already have an account?
All you have to do is to log in with your existing account, and you'll be able to choose the subscription level you like. Then get access to all the goodness right at your fingertips.
That's it for now. If you have any questions, don't hesitate to reach out to us on the SLT Esports Discord Channel: https://discord.gg/QqbaQP4
Keep track of our tournaments and news through our Facebook page: https://www.facebook.com/SLTeSports/